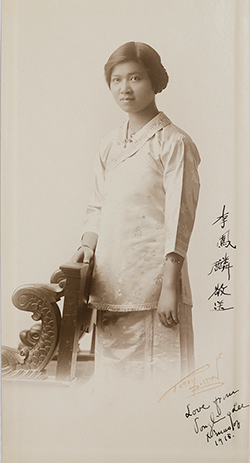 "A thirst for knowledge is a bridge to happiness and self-fulfillment."
To honor her mother, whose life epitomized this philosophy, Tsun-yu (Chinnie) Kwan '54 has made a significant philanthropic investment in Mount Holyoke to endow the Vong-ling Lee 1919 Scholarship Fund. It will provide need-based scholarships for exceptional students, with preference given to applicants from China.
Arriving at Mount Holyoke a century ago, Vong-ling Lee (pictured, left) was an exceptional student. One of the first ten women selected through a rigorous examination process to go abroad from China under the Boxer Indemnity Scholarship Program, she came to South Hadley in the fall of 1915. A talented writer, her essay "A Foreigner's Feeling in America" was published in The Mount Holyoke [News] in December 1915, just months after her arrival on campus.
Considering the beginning of her journey, Vong-ling writes of boarding a ship and arriving in San Francisco, where "… the din of noise, the full cars, well packed like sardines, and the general rush attract [her] attention, and produce a confused image on her brain, which seeks refuge in recalling the quiet and luxurious feeling of riding in a leisurely manner in a rickshaw."
The essay also reveals her impish sense of humor. On observing a group of students returning from playing tennis, she notes that white is the color of mourning in China and, for a moment, she wonders if she is witnessing "a sad funeral procession." Despite an undercurrent of homesickness, there are also flashes of rapid assimilation to life as an MHC student, especially when she writes of finding "a great deal of cool comfort in the ever welcome ice cream."
Records from the MHC archives show that Vong-ling was a beloved and vibrant part of the MHC community. An art and history major, she sang in the choir, was a member of the Mandolin Club, and was voted the "most loveable" student in her senior class. Upon graduation, she returned home to be married. She had met her future husband, S. S. Kwan, on the ship from Shanghai to San Francisco. Another Boxer scholarship student, he was en route to MIT to study architecture.
It is not always known what our alumnae do with their lives after they pass through Mary Lyon's gates and into the world. However, when their stories are brought to light, we see the powerful alchemy that occurs when a student's potential for purposeful engagement in the world is nurtured in an environment that celebrates the power of a woman's education.
Vong-ling's MHC story does not end with her return to China in the summer of 1919. Heading back to a country already unsettled by internal conflict and by external threat from Japan, she could hardly have imagined the path her future would take. By 1937, her husband was in hiding due to threats on his life, and she was left to parent six small children in a country locked in a full-scale war. Intimidation and deprivation were part of the fabric of everyday life.
In February 1946, Vong-ling wrote a letter to the former dean of the College, Florence Purington, inquiring about scholarship aid to Mount Holyoke. Her oldest daughter was an aspiring medical student and Vong-ling hoped there could be a place for her at MHC. In the letter, Vong-ling shared details of her life since leaving Mount Holyoke: their family was scattered, their home and property seized and sold; her husband was in hiding, visiting the family in secret and at great risk; the children had fallen ill; and she faced serious physical ailments. Despite these circumstances, Vong-ling wrote that her family was "... happy and always there were songs and laughter in the house."
Her daughter, Chinnie, recalls her childhood home as serene and warm, with her mother often gathering the children around the piano to sing. There could be no greater testament to the value of Vong-ling's "purposeful engagement in the world" than this legacy of children who value education and hard work, family and faith.
Vong-ling's undying affection for her alma mater ensured that her years spent in South Hadley would have a ripple effect. Her daughter, Chinnie, recalls that Mount Holyoke was always a part of their family conversations. "I don't remember knowing [about] any other women's colleges," she says. "It was always my mother's hope that at least one of her three daughters would attend Mount Holyoke." Vong-ling never had the joy of seeing her dream realized. She died in 1947, when Chinnie was just 13 years old. Four years later, Chinnie enrolled at MHC.
Today, because of the Vong-ling Lee 1919 Scholarship Fund, Vong-ling's story will continue in perpetuity. Each year a student will arrive at MHC to live and learn, to become part of a community, to find her passion and her purpose. And she will come to know the story of how the first steps of this journey were paved by the legacy of a truly "uncommon woman" of remarkable humility, integrity, faith, perseverance, and grace.