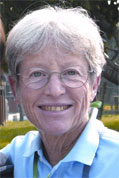 By age 30, Sarah A. Nunneley '63 was the first woman to complete residency and board certification in aerospace medicine. She'd set her sights on a career in aerospace while growing up in Minnesota and chose Mount Holyoke for its rigor in the sciences. For her 50th reunion, Nunneley has established a bequest for a scholarship fund in honor of her parents, Emory T. Nunneley, Jr. and Faithe Shaw Nunneley. 
Nunneley's bequest is a charitable remainder trust, which generates income and provides tax advantages throughout her lifetime. A new advantage, however, is that her bequest will be counted toward the class of 1963's reunion gift. 
"I wanted to give back to the institution that did wonderful things for me and help other women prepare for pioneering careers. The fact that the bequest will boost my class's remarkable philanthropy for our 50th reunion is deeply gratifying." 
After majoring in zoology, Nunneley attended the University of Minnesota Medical School. When she applied to the Navy for a residency in aerospace medicine, she was rejected because women weren't allowed on ships. And officials at Harvard had concerns about funding a woman to pursue training in what was then an all-male specialty. 
Ohio State University had no such worries. Her illustrious career in environmental physiology at the USAF School of Aerospace Medicine included work as a consultant for NASA-funded studies that simulated astronaut activities. She was elected president of the Aerospace Medical Association in 1990–1991 and later became editor-in-chief of its monthly journal. 
"My Mount Holyoke education provided a solid foundation for everything I've done," said Nunneley, who served as a College trustee from 1984 to 1989. 
Though more doors now are open to women interested in aerospace careers, Nunneley knows there still is much work to be done. "I so value Mount Holyoke's identity as a liberal arts college for women. My bequest testifies to that."