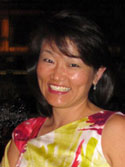 Joo-Yun "Julie" Oh Ybarra '90 believes that it's never too early to start planning for retirement. She's also a fan of win-win situations; that is, why not plan in a way that can benefit both you and your alma mater? 
Ybarra earned an M.B.A. from Columbia University and currently works for IBM as a financial analyst. She and her husband live in Greenwich, Connecticut, with their three young children. Ybarra had included Mount Holyoke in her estate planning but also was inspired to make a more immediate gift after reading an article about Jane Zimmy '74, a respected friend. 
"She had established a deferred gift annuity, a highly vetted and recommended tool for retirement income. That appeals to me as someone who is fiscally conservative," said Ybarra. "I could set one up through an outside broker or, like Jane, I could do it through Mount Holyoke, which helps out Mount Holyoke. Their rates are competitive. It just makes sense." 
As for why she believes in supporting Mount Holyoke, Ybarra says the impetus is somewhat selfish. Given that Mount Holyoke holds a prominent spot on her résumé, she has a vested interest in its success. In addition, she believes that Mount Holyoke is a valuable place for young women. "It's also a place that thinks outside the box in terms of admission. That matters to me," she added. 
Ybarra encourages other young alumnae to start planning ahead and to make Mount Holyoke part of that process. "I was the youngest alumna to approach the Advancement Office about a deferred gift annuity but they got right on board and made it easy," she said. "Now I have the satisfaction of knowing that I'm providing for my future while benefitting my college."